Please check the meetings page for dates of workshops and demonstrations.
Every year we try to have a good variety of demonstrations and workshops by visiting professional artists.
We have had Liz Haywood, Vic Bearcroft, Rob Wareing, Gwen Scott, Rachel Connolly, Jan Osbond, Dave Woolass, Matthew Palmer and Michael Webster (to name but a few) come and give us valuable demonstrations. Every demo teaches us something new and they serve to motivate and inspire.
We also make what has now become our annual pilgrimage to Michael Webster's house in Spilsby for a day's painting and tuition. We always have a superb day out. The food, company and painting are brilliant (the weather usually is too!). The group is taken by Mike to see the local sights and points of artisitic interest.
More demonstrations, workshops and perhaps some days out will be added to our calendar later. Check out the Meetings page for dates of demos and workshops.
Below are photos showing Mike Webster giving a demonstration. He was showing us how to paint a more interesting picture by amalgamating photographs.

In Liz Woodcock's last demo she showed us how she used gravity to get the required effects:
In Vic Bearcroft's demo he showed us how he created wonderful. realistic pictures of animals. His favourite subject is wolves and in his demo he produced a picture of a howling wolf using pastels on velour:
In Vic Bearcroft's demo in 2010 he showed us how he created an amazing portrait of a red indian in pastels on velour:
Matthew Palmer showed us the techniques he uses to produce wintery pictures in watercolours. Matthew uses a camera and screen so that everyone (even those right at the back) can get a good view of what he is doing.
Jan Osbond gave a very comprehensive demonstration on how to create texture in painting. She gave us some amazing ideas which we are dying to put into practice. The photo below shows Jan with a painting that uses 101 different ways of creating texture!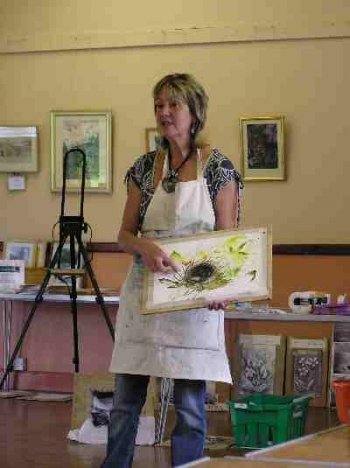 Lynn Norris visited us in 2012 to show us how to paint loose watercolours. This is something that many members struggle with. Here is Lynn's painting of a boathouse:
Mike Webster demonstrated his expertise in watercolours. He painted a lovley picture of Boston using a nuber of reference photographs:
On another occasion, Mike Webster demonstarted his skills in paiting a country scene:

Liz Haywood came to see us again in September 2013 and showed us how she uses watercolours to paint a snowy, rural scene:
In November 2014 we welcolmed Gareth Watling on his first visit to us. He paints some truly amazing pictures of wild birds using a particular type of acrylic paint. His paintings take him hours to perfect and the result is realistic, almost 3D representation of his subjects.
In 2015 we had another first – Geoffery Herrickx who paints miniatures. This was a fascinating demonstration in how to paint and frame a tiny picture. He originally started this for use in dolls' houses and soon realised there was quite a market for them. We thought it was quite amusing that his business card is larger than his paintings!
Another first in 2015 – Anne Bancroft demonstrated a lovely loose way of painting watercolours. She used this technique to get the background painted and then painted the foreground in afterwards.
In March 2017 Lynn Whitfield came and showed us how she painted this gorgeous cat.
March 2018 saw Andrew Farmer's first visit to us. He gave an amazing demo showing how he draws using charcoal. His approach was very different from most artists we've seen. Here, he expalined his approach using a lovely old coffee grinder as his subject. He will be back at a later date for a workshop.