Please check the meetings page for dates of workshops and demonstrations.
We try to hold workshops regularly where each member attending can create their own painting following step by step instructions from an artist. The workshops can be half day or more usually, full day (10:00 am – 4:00 pm). Many members prefer workshops to demonstrations because they learn techniques more thoroughly, get individual attention for any problems and go home with a finished or almost finished work of art.
The photos below show the sort of thing we get up to.
In May 2022 Lynne Whitfield hosted a portrait workshop in bot water colour and acrylic. Here are the results of a very enjoyable and informative day:
In February 2018 Gareth Watling made a very welcome return visit to hold a kingfrisher painting workshop
April 2018 saw Lynn Whitfield here again to show us how to paint in loose watercolours. I think you'll agree we all managed to produce some amazing hares
Gwen Scott using watercolours, showed us her method of painting flowers and adding leaves afterwards with amazing effects:
| | |
| --- | --- |
| | Gwen shows us her technique for adding leaves to paintings of flowers |
| Gwen's finished and unfinished paintings | |
November 2015 saw our old friend Liz Haywwod back for a watercolour workshop. Using Clumber Park as a reference we learnt how to tackle reflections in water.
Gwen Scott held a watercolour workshop in 2014 where we painted flowers around a cottage door. It was good to see such varied results. All good I hasten to add!
Vic Bearcroft's subject was a Indie the tiger. Vic provides a photo for us to use as a reference and we worked with pastels on velour paper:
| | |
| --- | --- |
| | Vic showing us how he achieves his wonderful effects |
| The group showing off their paintings | |
At another workshop Vic Bearcroft showed us how to paint a seascape in pastels on velour: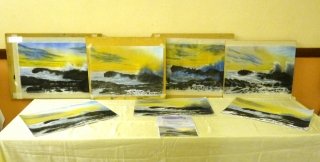 In April 2012 Vic Bearcroft showed us how to paint a Siamese cat's head in pastels on velour:
| | |
| --- | --- |
| This is Vic's painting from the photo | |
| | And these were our attempts |
In July 2011 Tas Severis came to show us how to paint a sea scene in pastels on velour
| | |
| --- | --- |
| This is Tas painting his seascape | |
| | And these were our attempts |
In February 2013 Vic Bearcroft came again to teach us how to paint an owl in pastels on velour
| | |
| --- | --- |
| This is Vic painting his owl from a photo | |
| | And this was the finished piece |
In May 2013 Terry Harrison ran a workshop in painting a quayside in watercolours. He showed us some very useful brush techniques too.
| | |
| --- | --- |
| This is Terry painting his version | |
| | |
And these were our attempts


In September 2013 Mick Lakin, the botanical artist, taught us how to go about drawing and painting apples and pears as botanical illustrations
| | |
| --- | --- |
| This shows some of the members concentrating on their subjects | |
| | |
On 23rd November 2015 our old friend Vic Bearcroft came to see us again to show us how to paint using his latest technique – indian ink. Only ink was used to create this tiger